CIA ONLINE MASTER'S IN
FOOD BUSINESS



Be a Changemaker in the World of Food
Lead the food industry into an innovative future with a master's degree in Food Business. Pairing business education with a food focus, this is the only program of its kind, and it's only found at CIA. Develop the skill set to successfully assess market opportunities, prepare for what's ahead in the food world, and spearhead the next revolution in food. Achieve your career goals by launching your own food business, developing a product, or stepping into leadership roles within the food company you work for. You'll be ready to do that all and more with the CIA master's in Food Business program.
Ready to apply? Start your application.
Overview
Advance your career while you're working through online study with top subject matter experts drawn from the food, beverage, and hospitality industry and CIA faculty.
Examine global forces like shifting demographics, technology, a renewed focus on health and wellness, and the growing consumer demand for sustainability.
Focus on design thinking, marketing and branding, product development, operations, law, real estate, food systems, and leadership that inspires high-performing teams.
Gain invaluable insights from guest speakers in food and beverage, finance, marketing, operations, law, entrepreneurship, food concepts, and product development.
Begin with a short residency at CIA at Copia in Napa, CA and finish the program with the final residency at CIA in Hyde Park, NY, pitching your business playbook to leaders in the corporate, investment, and education worlds.
Network with thought leaders and attend the CIA-Harvard T.H. Chan School of Public Health's Menus of Change® conference during your mid-program residency at CIA in Hyde Park, NY.
Advance Your Career with a CIA Master's Degree
The CIA Master of Professional Studies in Food Business degree is designed for professionals who aspire to lead successful business ventures; help existing food, beverage, and hospitality businesses to grow; and capitalize on the unprecedented entrepreneurial opportunities in the global food world.
The food business master's degree is ideal for:
Current and future food industry leaders charged with bringing innovation to market through restaurant companies, food manufacturers, supply chain operations, and other corporate ventures.
Professionals who desire targeted, graduate-level education that focuses on success strategies for entrepreneurial ventures as well as positions in restaurant groups, hospitality operations, product development teams, and retail food businesses.
Recent college graduates and mid-career explorers who are passionate about food systems, food entrepreneurship, and food product design and development.
Culinary educators fulfilling graduate degree requirements for career advancement and/or tenure.
Curriculum
The two-year, 30-credit Food Business master's degree program includes:
27 credits in asynchronous online courses covering such subjects as food systems, ethical leadership, business, and design thinking, as well as a capstone project developed in concert with faculty advisors and mentors.
3 credits consisting of three short residencies at the California and New York campuses held before the start of your first semester, after the completion of your second semester, and as your final semester concludes.
Residencies
The convenient and asynchronous online learning format of the food business master's degree program is supported by occasional in-person residencies. Your cohort will gather for hands-on learning and immersive experiences in the major food hubs of Napa Valley and the Hudson Valley. Meet with leading entrepreneurs and get a behind-the-scenes look at how running a business can innovate the food industry. Attend the CIA-Harvard collaboration Menus of Change Leadership Summit and network with leading food industry leaders. You'll also get the opportunity to bond and collaborate with your fellow cohort members, who all share your passion for the food industry.
Mentor Network
Students in the food business master's program receive exclusive access to one-on-one mentoring sessions with influential industry leaders in the world of food, including C-suite executives, finance experts, marketing professionals, lawyers, entrepreneurs, and more.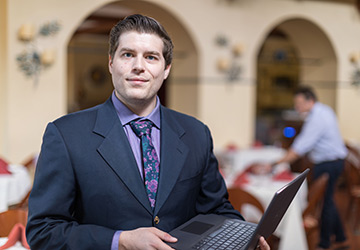 Faculty and Industry Experts​​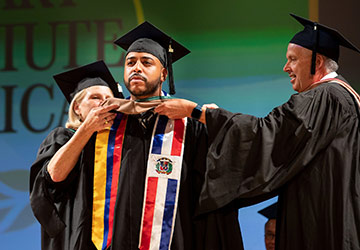 CIA Advantage
As a graduate of the CIA, you'll instantly become a member of a 50,000-strong influential professional network of CIA alumni, paving the way for unparalleled career opportunity. You'll also have lifelong access to career resources—including job listings, and Career Fair and networking events.
WHAT THEY ARE SAYING
"The master's in Food Business program was the preparation I needed for the next phase of my career. The professional and person networking opportunities along with a solid and robust curriculum refreshed my skillset and has already proven valuable to my career trajectory."
—Andrea Heinly, master's in Food Business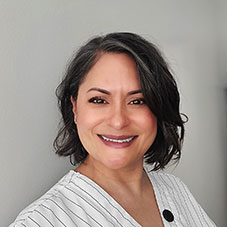 "The Food Business master's program is helping me gain knowledge and insight in order to build a solid foundation for my business endeavors. The program has opened my eyes to new ideas, new ways of thinking, and the ability to connect with industry professionals on all levels."
—Tayo Adeboyejo, master's in Food Business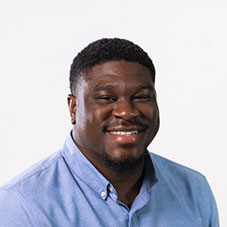 Contact Us