CIA ONLINE MASTER'S IN
FOOD BUSINESS



Become a Changemaker with a Master's Degree in Food Business
Your career success—and impact—in today's food industry depends on a deep understanding of increasingly complex systems. That's why you'll find CIA graduates in nearly every corner of the food world, from research and development to health policy to environmental science. And, of course, food businesses.
In this one-of-a-kind business program, you'll hone the skills you need to successfully assess market opportunities, pitch investors and senior executives, and spearhead the next food movement. And unlike general MBA programs, the CIA's Master's in Food Business combines decades of thought leadership in sustainability, innovation, wellness, and food ethics with traditional business topics such as leadership, finance, human resources, and marketing.
Ready to get started? Apply now.
Program Overview
Offered by the Food Business School for graduate education at the Culinary Institute of America, this master's degree in food business equips graduates with the tactical skills they need to pursue their ambitions in food entrepreneurship. Your studies will cover a variety of business topics, including:
Examining global forces like shifting demographics, technology, a renewed focus on health and wellness, and the growing consumer demand for sustainability.
Focusing on design thinking, marketing and branding, product development, operations, law, real estate, food systems, and leadership that inspires high-performing teams.
Gaining invaluable insights from guest speakers in food and beverage, finance, marketing, operations, law, entrepreneurship, food concepts, and product development.
Begin with a short residency at CIA at Copia in Napa, CA and finish the program with the final residency at CIA in Hyde Park, NY, where you'll present your ready-to-pitch business playbook.
Networking with thought leaders and attending the CIA-Harvard T.H. Chan School of Public Health's Menus of Change® conference during your mid-program residency at CIA in Hyde Park, NY.
Ready to get started? Apply now.
Who Should Apply
CIA's master's in Food Business degree is designed for chefs and culinary professionals seeking to expand their career options as well as business professionals looking to transition to the food industry. It is ideal for:
Entrepreneurs launching or expanding a food business
"Intrapreneurs" driving innovation and organizational change in larger, existing food, beverage, or hospitality companies
Executive chefs, food and beverage directors, and regional managers in contract foodservice, hotels, and restaurant groups, and distribution
Vice presidents, directors, and chefs in self-operated dining
R&D specialists and brand managers in consumer packaged goods companies
Menu developers for multi-unit and meal kit companies
Consultants for food, beverage, and hospitality companies
And anyone looking to disrupt the food space
Curriculum Overview
The two-year, 30-credit Food Business master's degree program includes:
27 credits in online courses covering subjects such as food systems, ethical leadership, business, and design thinking, as well as a capstone project developed with the help of faculty advisors and mentors.
3 credits consisting of three short residencies at the California and New York campuses held before the start of your first semester, after the completion of your second semester, and as your final semester concludes.
Featured Faculty​​
Learn In-person with Residencies
The asynchronous online learning format of the Food Business master's degree program is supported by three in-person residencies.
Your cohort will gather for hands-on learning and immersive experiences in the major food hubs of Napa Valley and the Hudson Valley.
Meet with leading entrepreneurs and get a behind-the-scenes look at how running a business can innovate the food industry.
Attend the CIA-Harvard collaboration Menus of Change Leadership Summit and network with leading food industry leaders.
Collaborate with your fellow cohort members, who all share your passion for the food industry.
Develop Valuable Relationships with Mentors
Students in the Food Business master's program receive exclusive access to one-on-one mentoring sessions with influential industry leaders in the world of food, including C-suite executives, finance experts, marketing professionals, lawyers, entrepreneurs, and more. You'll gain valuable insights from real-world experts, including:
How to pitch to investors
How to create a memorable brand
How to navigate industry regulations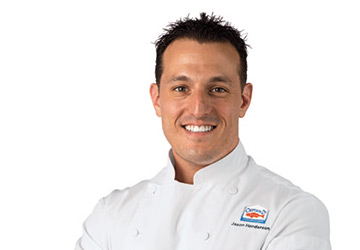 Jason Henderson '99, chef and president of Straight Path Consulting, LLC.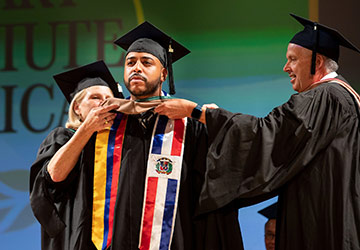 CIA Advantage
The Culinary Institute of America has been educating successful food industry professionals for decades, helping to launch and advance thousands of careers. As a graduate of CIA, you'll have lifelong access to career resources—including job listings, and Career Fair and networking events. Additionally, you'll instantly become a member of a 50,000-strong influential professional network of CIA alumni, paving the way for unparalleled career opportunity. Your network will consist of CIA grads who are shaping today's food industry, including:
Roy Choi '98, pioneer of Korean fusion food trucks, published author, TV show host
Chieyen Meachem '15, food and beverage manager, operations support resources, Marriott International
What They Are Saying
"The master's in Food Business program was the preparation I needed for the next phase of my career. The professional and person networking opportunities along with a solid and robust curriculum refreshed my skillset and has already proven valuable to my career trajectory."
—Andrea Heinly, master's in Food Business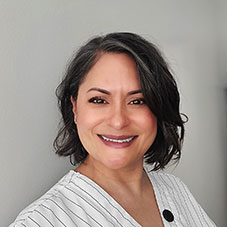 "The Food Business master's program is helping me gain knowledge and insight in order to build a solid foundation for my business endeavors. The program has opened my eyes to new ideas, new ways of thinking, and the ability to connect with industry professionals on all levels."
—Tayo Adeboyejo, master's in Food Business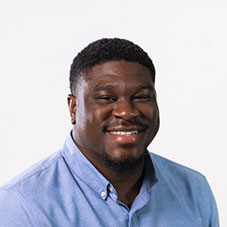 Featured Articles
Five Tips on Becoming a Food Entrepreneur
Do you want to run a successful food business? As a food entrepreneur embarking on your own venture, you're sure to experience both triumphs and tribulations. Let these helpful tips from bakery owner and CIA alumnus Scott Martley inspire you on your own path to business ownership.
Getting into Food Product Development
If you're motivated to get into the world of food product development, furthering your education might be a vital next step on your career path. Dig into the different kinds of programs that can help you get there, plus three tips for creating a successful food product.
How to Maximize Your Food Business Profits
Running a profitable food business isn't luck—it's a science. Whether you're just starting to put together your business plan or you're a veteran restaurant owner, these valuable tips can help you maximize your profits and move towards creating a healthy, sustainable business.
Contact our Graduate Admissions Team