Faculty Spotlight: As a professor in CIA's master's in Food Business program, Brooke Golden teaches students everything they need to know about branding and getting your product to stand out on shelf.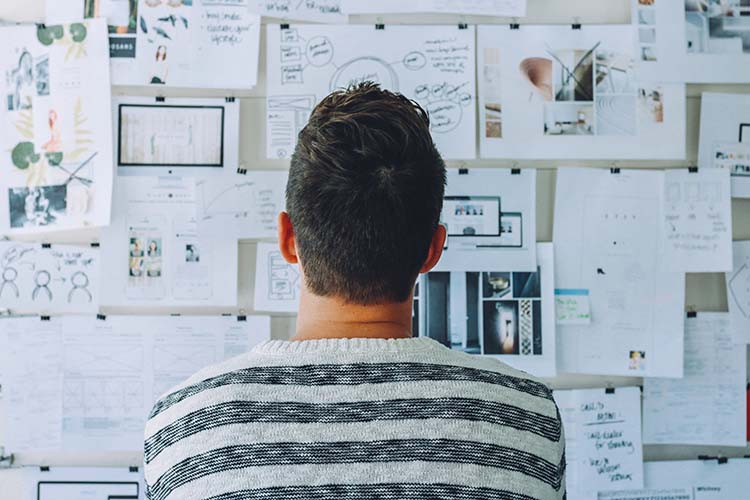 Before Brooke Golden made her way to the food industry, she worked at the ad agency Fallon on high-profile campaigns for the likes of BMW and United Airlines. She later found her way to Clif Bar & Company, where she spent eight years helping build the global brand it is today. Then, as a branding executive at Navitas Organics, she led the superfood snack company's evolution into a mission-driven lifestyle brand. Now, as the founder and president of Nourishing Growth, she offers her expertise to startup and venture capital brands, with past clients including Tattooed Chef and Cravings by Chrissy Teigen.
Golden brings the same expertise to her second-year course at the Culinary Institute of America's prestigious master's in Food Business program, "Branding, Packaging, and Differentiation." With a focus on the CPG space, her class starts with the basics of branding, eventually building to the development of a formal brand guide and market strategy for a product of their own devising.
"We start with the principles of branding and what it means to be a brand versus a commodity," Golden explained. "We go through the power of branding—showing how products with a strong brand can command a premium price; have longer staying power in the marketplace, get larger multiples at acquisition and have more loyal consumers as compared to commodities. So, all these pieces of the 'why' behind a brand, and then a little bit of the 'how' to build a brand: you have to be differentiated in the marketplace, you have to have values that you stand for and are integrated into your company, you have to know and resonate with your core consumer base. And then, how do you build that from the company level to packaging and visual identity?"
The Master's in Food Business Program Offers "A Structure of Thinking"
Having spent several years teaching at CIA, Golden sees the master's in Food Business program as the perfect next step for food professionals looking for formalized training and access to valuable industry resources. "Most importantly, it gives people a vernacular and language and a structure of thinking that they can apply to build their own business—or to go be part of a larger business with a stronger command of strategy," she said. "It offers a broader look into the industry and opens up a network of CIA professors and colleagues which can be very valuable.
She specifically extolled the program's capstone seminar, in which students develop a fully fleshed-out business plan for a food product or venture. In her view, CIA offers a unique level of guidance throughout this process, helping them build out financial models and product-positioning strategies. As she pointed out, the program's relationships throughout the food industry allow for an exceptionally high caliber of hands-on training and mentorship. "If a student came in who didn't know who their co-pack manufacturer would be or what attorney they need to talk to, CIA could offer five people to talk to in a very short period of time," she said.
With its expert faculty and vast network, CIA is also well-suited to prepare students for success in a rapidly changing industry, one where it's essential to keep up with the latest trends. One trend that's caught Golden's eye lately is the proliferation of "upscale and culinary-focused brands coming to the shelf"—like Rao's, the legendary Manhattan restaurant that transformed into a multi-category business and then sold for $2.7 billion. "While Rao's didn't come out of CIA, it's an example of this very unique space of taking restaurant-quality food to the shelf," she said. Courses like hers give students the skills they need to thrive in that space, and in any others that might emerge in the future.
The Importance of a Beginner's Mindset
For professionals considering the master's in Food Business program, Golden has two key pieces of advice.
The first: know what you want out of the program. "If you're investing the time and you do want to get out of it as much as you can, be really intentional about who you might want to meet, and use it as an active time to start networking," she said. "Start thinking about using those resources while you're in the program, so that they're even more available to you once you complete the work."
The second: don't be too precious about your ideas; instead, be open to change. "We see students come in with a concept that they want to bring to market, but if you're applying the tools correctly, it should change quite a bit—because you're learning," she explained. "Go in with that beginner's mindset: you want the work that you're doing in the program to change the way you're thinking, change your idea, change your concept. That's a good thing. Be open to that."
Looking out at the food industry more broadly, Golden said she's excited by the increasing focus on ethical food systems. "As we start to think about what eating healthy means in regards to our own health and the planet's health, in terms of sustainable farming, in terms of the way we're making our food—I don't think it's going to change overnight, but I think there's some very interesting conversations and applications between science and agriculture and consumer preferences that are continuing to evolve," she said. "I'm excited about what that will look like in the long term for our industry and our global community."