Faculty Spotlight: CIA Professor Scott Allmendinger offers his foot notes for those looking to break into food product development.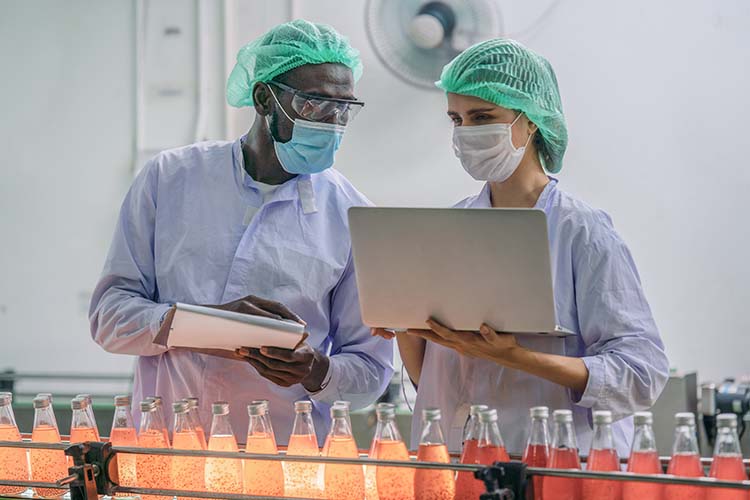 For budding food product developers, it's no secret that the market is becoming increasingly saturated. How is one to find success in such a competitive culinary landscape? Scott Allmendinger—a professor of the Culinary Institute of America's prestigious master's in Food Business program and a veteran of the food industry himself—says that simply having a good idea isn't enough. If you're looking to get into food product development, here are some key things to keep in mind that will help put you on the path of success.
Becoming a Food Product Developer
Creating a great food product requires a team of specialized individuals, including food scientists, marketers, operations, and more. This is the team that the food product developer (i.e., the brains behind the culinary idea) will need to bring their product from ideation to distribution, and they'll need a strong set of business skills to lead the team to success.
If you're motivated to get into the world of food product development, but aren't quite confident in business acumen, then furthering your education might be a vital next step on your career path. There are two viable options to consider.
MBA
A Master of Business Administration is a traditional postgraduate program for professionals looking to hone their business skills. They are often generalized programs that require significant time and monetary investment, but the title on your resume is often worth it.
Master's in Food Business
For those looking to specialize in the food industry, a postgrad specialty program—like the Culinary Institute of America's master's in Food Business—offers students the tactical skills they need to pursue their ambitions in food entrepreneurship, specifically. While the classic business skills of global market analysis, design thinking, technology, finances, and leadership are covered as they would be in an MBA, they are done so specifically through the lens of the food industry via experienced professors like Scott. This offers students a more focused program, with plenty of opportunity for industry networking.
Three Tips for Creating a Successful Food Product
As a food product entrepreneur, you'll not only have to master balance sheets and business plans, but also the art of developing products that resonate with the masses. Scott shares his top three tips for creating successful food products, starting with the human-centered design approach.
Prioritize Human-Centered Design
While there's no way to guarantee success in product development, Scott points out that there's one very easy way to guarantee failure. "The surest way is to assume that your concept's value proposition is self-evident simply because you think it should exist. In cooking, we call this the "Golden Palate" syndrome, or a chef's belief that everyone will like something just because they do," Scott says. "That may work for a famous chef in a single restaurant, but it won't get you traction in a mass market."
Instead, Scott's teachings and CIA's Food Business program as a whole champions the "human-centered design" approach. Pioneered by Apple and other tech companies, human-centered design keeps audience needs at the center of every step of the development process. "The products with the best chance of success begin with the identification of a problem or desire that a group of people have and are then designed to provide a solution," says Scott. Doing so helps companies vet their product long before it hits the market.
Consider Your Target Market's "Needs States"
Especially before the advent of the internet, product developers and marketers would look to specific demographics (i.e., age, race, gender, etc.) in order to find an unsolved consumer problem that they could then design for. But in our modern, global era, psychographics (i.e., personality, values, self-image, etc.) are proving to be a better indication of consumer purchasing patterns than demographics.
Take coffee-drinking habits, for example. "Some people buy Starbucks so they can be seen 'wearing' the logo on a cup in their hand," Scott says. "Others might be motivated to support local coffee roasters. In both cases, there is more than just the coffee itself being chosen."
Scott goes on to say that "The most interesting aspect of this 'post-demographic consumerism' is designing for needs states, such as performance, indulgence, convenience, and community." These needs states are what motivates a purchase and are often broken down into two key motivations, which include 1. an immediate desire and 2. identification with one's sense of self. In this way, "Consumers with very different demographics will have identical needs at any given time," says Scott, "and a single person's needs will change over the course of a day." Designing for these needs, and not for a particular demographic, is key.
Embrace Working With a Team
Taking a human-centered design approach by prioritizing psychographic need states will be vital to your success as a product developer. But so, too, is your willingness to work with a diverse group of stakeholders who can challenge your beliefs and preconceptions. Scott says that "Even lone entrepreneurs should seek feedback early on from people who act and think differently than they do. This process is the best chance you have to make sure your mistakes are challenged and caught before they become really expensive, and that the products with the greatest chance of success are the ones that emerge from the end of the funnel."
It's also important to reflect on what role you can best play on such a team. You may be the brains behind the idea to begin with, but where can you best contribute your expertise throughout the process? Are you the marketer, the scientist, the leader, or the logistical expert?
"Determine where you can contribute most, then study up so you can backfill where you aren't so strong," recommends Scott. "In a startup situation, you'll need to wear many hats. In a larger company, you'll need to understand and validate other people's viewpoints. In CIA's discipline, we call this process empathy."
While a good idea is at the root of every successful product, a good idea alone cannot guarantee success. The world of food product development is both competitive and complex, requiring a strong set of business acumen and design thinking skills to navigate swiftly. To get your food idea on the market, consider boosting your chances with a program like CIA's master's in Food Business.