Bakery owner and CIA alumnus Scott Martley shares his triumphs and tribulations as a small business owner who's steadily expanding.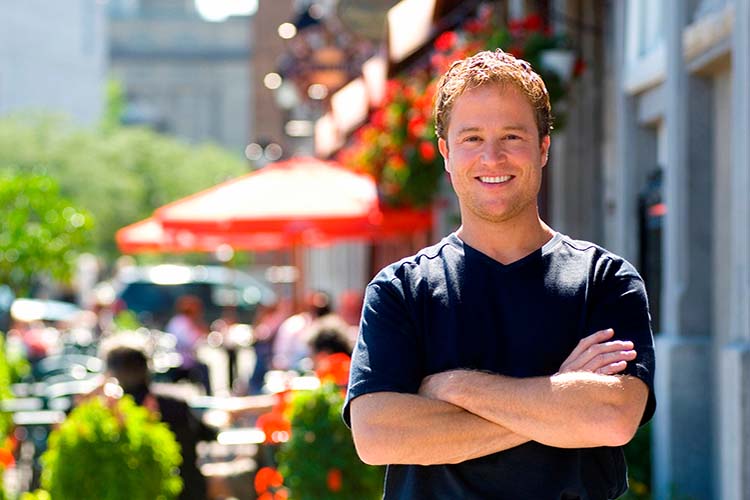 Entrepreneurship—that catchall term for the daring state of embarking on your own venture—can mean many things to many people. For some, it's raising staggering amounts of capital and selling within five years. For others, like Blue Finch Bakery owner Scott Martley '21, it's about starting slow, investing wisely, and growing sustainably. If you're interested in becoming a food entrepreneur, here are five insights that Scott—who's also a graduate of the Culinary Institute of America's prestigious master's in Food Business program—encourages you to consider.
1. Assess Your Options and Consider Your Resources
Before you dive head-first into taking out loans and hunting for your dream location, it's vital that you accurately assess what capital you have at your disposal, what you qualify to obtain, and how and when you'll be able to pay that back. When Scott and his wife first conceived of starting a bakery in their hometown in Arizona, "We quickly realized that taking a traditional approach of building or moving into a commercial space was too costly and risky for our small-scale production," says Scott.
Instead, the two discovered the Cottage Food Law, which legally allows small businesses to prepare certain foods at home for commercial sale in certain states—Arizona being one of them. With minimal capital, limited equipment, and no payroll to consider, the duo were able to launch their bakery without being tied down to a traditional brick-and-mortar business plan.
"Because we started out with no debt from overhead expenses," says Scott, "we could focus all our efforts on building the business and a strong customer base through great service and delicious products, which eventually would materialize into a positive cash flow that continues to feed our growing operations to this day."
Even if you're moving full-steam ahead with an ambitious business plan, Scott's realistic, conservative approach to financial projections is still applicable. To learn more about the building blocks for running a profitable company, visit How to Start a Profitable Food Business with advice from restaurant consultant Jason Wallace.
2. Manage Expenses Down to the Penny
Being smart about your financial limitations isn't just something you should prioritize in the beginning—it should be something you're aware of day-in and day-out as a business owner. Keeping costs down to maximize profit margins is the cornerstone of any sustainable business model.
For Scott, this means monitoring ingredient prices, maximizing production timelines, and tweaking their weekly offerings to account for these fluctuations. "We recently reviewed our cost for paper bags and realized that our cost went up nearly $.30 per customer to bag their order in a handled grocery bag. This doesn't seem like much until you realize that 70 orders at $.30 per customer is around $21 dollars," says Scott. "We eliminated this extra baggage step and instantly started saving which eventually turned into hundreds of dollars saved per month."
During his graduate studies with CIA, Scott also learned how to become proficient in using financial tools like the cost-benefit analysis, return on investment analysis, and break-even analysis to objectively analyze what's worth investing in and what's not. "All the equipment we have purchased was initially evaluated using some or all of these tools," says Scott.
3. Balance Your Life and Business
Clearly, strong financial management is a key skill that you'll have to master in order to become a successful entrepreneur. But another vital competency you'll need to develop is time management—especially if you have a family and/or another job. Scott has both.
"It's definitely challenging at times," Scott laughs. "Every Sunday my wife and I sit down after our weekend bake is over and run through our respective schedules (kids, work, bakery, etc.) for the month to see what is needed to fit it all in. Right now, we only bake on the weekends so that we can give everything in our busy schedules the respective amount of time it requires."
Setting these types of boundaries from the start can help you maintain balance so that your personal life doesn't take too much of a punch from the inevitable ups and downs of starting a business. For Scott and family, this is made even more difficult from the fact that they run their bakery from their own home. "We love working hard to make the business grow," Scott shares. "However, we never want it to become so all-consuming that we miss out on life with our family."
4. Consider Your Purpose When Defining Success
As mentioned previously, one of the first things a savvy entrepreneur will consider is when their venture will become profitable. If there is no financial return, then there is no business. However, becoming a successful entrepreneur shouldn't exclusively be defined by one's ROI.
Take your mission and vision statements, for example. Do they center around profits, or around purpose? Your purpose is your why. Whether it's as simple as creating the tastiest biscuit in your hometown, or as complex as synthesizing new proteins for a plant-based future, your why should be your north star when deciding which turns you'll make as an entrepreneur. Finances should always be taken into account when making these tough decisions, but remember that revenue and profit margin are best viewed as key performance indicators rather than your north star.
With Blue Finch Bakery, Scott has chosen to focus his efforts on serving his community. "I believe our secret to growth and success has been to NOT focus on growth and success. It sounds counterintuitive, but I think you can get lost and overwhelmed if you only focus on chasing profit," he says. "The byproduct of our choosing to focus efforts on serving our community, building lasting relationships with our customers, and delivering a great product is that we have several repeat customers who spread positive reviews to their friends and family and, you guessed it, revenue and profit follow!"
5. Embrace Agility and Enjoy the Journey
The food industry and the software industry might seem worlds apart, but all budding food entrepreneurs should take cue from the engineering playbook and learn about agile methodology. This project management framework breaks down projects into several distinct phases rather than tackling everything in one go. After each phase, the team reflects on successes and shortcomings to quickly adjust their strategy before entering the next phase. It's a philosophy that celebrates iterative thinking and agility, which, in today's ever-changing global economy, is proving to be the only way businesses can survive.
Today, Blue Finch Bakery has made a name for itself as a quality producer of European-style sourdough breads and pastries—but this wasn't in the original business plan. Scott and his wife had initially set forth to make and sell donuts, but after a few months of laborious trials, they pivoted to what they now do best.
"By allowing the journey to help guide us on our business path," says Scott, "we discovered the ability to sell our breads under the Cottage Food laws, built a growing customer following through local community support, continue to explore and expand our bakery menus of global breads, and ultimately built a successful business with little… money and space."
Even if your business requires substantial investment from the get-go, keeping an agile mindset can help keep your business nimble and quick to respond to changing consumer and economic trends. Take the monumental shifts we saw during the pandemic, for example. Businesses who had the foresight to quickly pivot their offerings (e.g., delivery, virtual experiences, social platforms, etc.) to rapidly-changing consumer demands were the ones who not only survived, but thrived.
Scott says that one of the most valuable things he learned during his master's was to ask himself the following questions when posed with a problem:
What do I need to know to solve this problem?
What resources are available to me?
Who do I need to talk to?
"Believe it or not, these three questions would always seem to make an appearance at some point in every single class throughout the Food Business master's program," says Scott. "I continue to use these questions to help frame any problem we may be dealing with in the bakery. They have helped me learn that sometimes an 80% solution right now is better than a 100% solution sometime in the future."
With just four months away from a military retirement, Scott is excited to be embarking on a new chapter with Blue Finch Bakery. He'll be baking full time and is, once again, looking to expand his offerings. His advice for his fellow food entrepreneurs? "Start small and see where the journey takes you," he says. "You just have to start!"