Restaurant consultant and CIA alumnus Jason Wallace turns restaurant profitability into a science.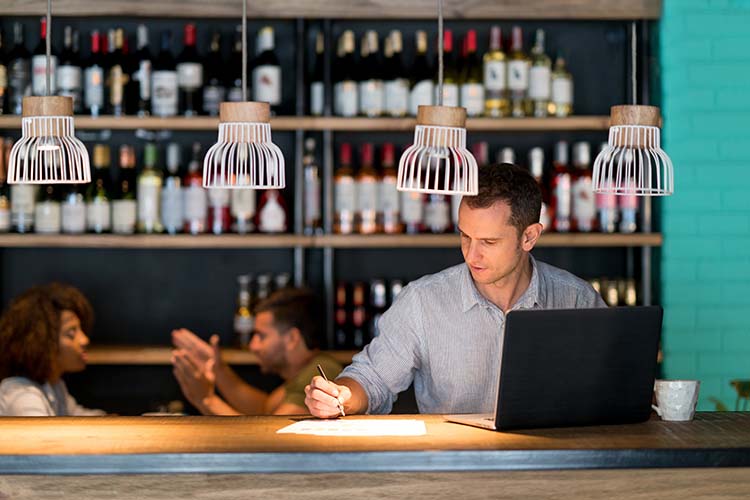 Though precise statistics are conflicting, it is widely acknowledged that restaurants experience higher failure rates than businesses in other service sectors and retail, especially within the first year of opening. This may feel ominous to budding restaurateurs, but not to Jason Wallace '20 (aka, "The Restaurant Scientist"), who helps new and existing restaurant owners in making their businesses profitable. If you're looking to improve your ROI, here are four tips that Jason—who's also a graduate of the Culinary Institute of America's prestigious master's in Food Business program—urges you to prioritize.
1. Leave Your Emotions at the Door
The first order of business? Removing emotions from the decision-making process. This can be a tall order for many passionate restaurateurs, who are often eager zealots of their million-dollar idea with little knowledge of how to execute. But at the end of the day, an idea remains conceptual unless it is materialized by action and sustained by a profitable business model.
This is where "The Restaurant Scientist" looks to the structures and processes of successful restaurants to understand the science behind their profits. There is no room for emotion here. "What is the science behind revenue, expenses, and ratios that can grow brands?" prompts Jason. He looks to chain restaurants as an example.
"Regardless of whether or not you respect them, they've developed repeatable strategies for growing profits," Jason says. As passionate foodies, "we have a tendency of overlooking those types of establishments… but whether you want to run 21 or one (restaurant), the foundation is the same."
Take Chipotle, for example. Now ranking as one of the world's biggest food chains by revenue — which amounted to $8.6 billion in 2022—the Mexican grill was originally conceived of by Steve Ells to be a single "cash cow" burrito joint that would fund his true dream of owning a fine dining restaurant. But due to the simplicity of the menu and the efficiency of the assembly-line service, the original Chipotle—which opened in Denver, CO in 1993—became profitable after only being open a few months, and Ells opened more locations. By 1998, McDonald's became their first big investor, and the rest is history.
2. Consider the Structure of Your Menu
When assessing an unprofitable restaurant, the first consideration Jason makes is the structure of the menu. How many items do you offer? How many ingredients do those items require? These simple questions will impact every aspect of your business model, and, ultimately, how your restaurant materializes.
Think about the differences between, say, a donut shop and a French bistro. A typical donut shop's menu includes many different varieties of donuts and, usually, coffee. The simplicity of this menu means the owner can operate in a small footprint, which means that they'll keep costs down on a lease. The amount of equipment needed is minimal, which, again, keeps costs down. Additionally, they can run this type of establishment with a small staff that can be trained quickly, and they can minimize labor costs by keeping the shop open only until early afternoon.
The French bistro's menu is much more complex than that of the coffee shop. They'll offer a variety of specialty French foods, usually for lunch and dinner, which means the restaurant will need a full-service kitchen and knowledgeable cooks. Guests will expect wine and beer options, which means the bistro needs to obtain a liquor license. They'll need a wait staff that can speak intelligently about the menu and who are old enough to serve liquor. All-in-all, this business is much more expensive and complex to run than the donut shop.
That's not to say that you shouldn't pursue opening a French bistro if you have a "streamlined and focused" menu, says Jason. Once again, removing your emotions from the decision-making process—and maybe your favorite, 10-step item from the menu—will be vital to your success. "If you don't address this properly, you develop a concept on shaky grounds," Jason warns.
3. Get Real About Your Financial Projections
In addition to the menu, Jason considers real financial projections to be the most important component of a business plan for food entrepreneurs. Real financial projections can only be attained if you remove your emotions from your estimations. To do so, treat your business as if you were a bank evaluating its numbers for a loan application, and rely on honest market research (or your actual statements if you're already up and running) rather than your own hunches or beliefs.
To create accurate financial projections, you'll need to nail down your sales projections and your fixed and variable costs, which will then help you create an income sheet, balance sheet, and cash flow statement.
As a food business entrepreneur, you may not be well-versed in the above, and that's ok. Getting expert advice is crucial here, whether it's seeking out a consultant like Jason or learning the skill yourself in a program like CIA's master's in Food Business program. Jason shares that CIA was instrumental in helping him learn about business finance. Beyond understanding the three financial statements listed, he and his peers also delved into:
Brand valuation
EBITDA versus net income
Multi-unit expansion
Commercial lease negotiations
Exit strategies
Building wealth through restaurant operations
Understanding how the above can impact your restaurant is imperative to your business's overall success—and your own.
4. Invest in Leadership
So far, we've spoken about the tangible aspects of a food business's success, including menu structure, financial projections, and scalability. But Jason's last tip is focused on the less tangible virtues of leadership and why it's vital to a restaurant's success.
Restaurant managers come in many shapes and sizes, but what sets them apart from each other is not if they are asked to wear a suit—it's whether they are leaders or managers. Steve Jobs once said, "management is about persuading people to do things they do not want to do, while leadership is about inspiring people to do things they never thought they could."
This vision-first perspective is what Jason describes as "charting the path in aligning people," which, for anyone who's worked in the food business, knows is vital to the success of a company. The mission and vision of a restaurant (i.e., its purpose or reason for being) must be at the heart of each and every employee in order to minimize turnover and maximize customer loyalty, which can only be accomplished if your chosen manager is a true leader. Jason emphasizes how important human capital is, as well as "leadership's ability to develop talent within the organization"—all important lessons he learned during his studies with CIA.
Whether you're just starting to put together your business plan or you're a veteran restaurant owner, chances are these four tips can help you move towards creating a healthy, sustainable business. Remember that running a profitable food business isn't luck—it's a science.