CIA MASTER'S DEGREE PROGRAMS


Advance Your Career with a Master's Degree
Achieve your career goals and become a food industry leader with the advanced level of knowledge, skills, and qualifications that come with a master's degree. A graduate degree from CIA is the final touch your résumé needs—opening doors throughout the food world and ushering you into our industry-wide alumni network. Start your journey to career advancement and increased earning potential now. There's no place more qualified to educate you about the world of food than CIA. What are you waiting for?
Skip the $75 application fee with waiver code MASTERS2023.
Master the World of Food
With online master's degree programs in Food Business, Sustainable Food Systems, or Wine and Beverage Management, CIA has the right program for you.
Only at CIA—the World's Premier Culinary College

Industry Connections
Access to our 50K+ alumni network—the food industry's most influential food, beverage, and hospitality leaders and changemakers.

Immersive Residencies
In-person residencies augment online learning with hands-on experiences and networking opportunities.

Flexible Schedule
No reason to put your career on hold. Our primarily online program provides schedule flexibility for working professionals.

Career Focus
Advanced business and management education geared specifically to the world of food, giving you a better foundation for success in the industry.
Funding Your Master's Degree Education
CIA is committed to making your education as affordable as possible. Generous graduate merit scholarships are available for our programs.
For Food Business, Sustainable Food Systems, and Wine and Beverage Management, CIA offers the following scholarships:
CIA Graduate Merit Scholarship is for domestic students and can total as much as $8,500 for the duration of the master's degree.
CIA Graduate International Merit Scholarship is for international students and can total as much as $2,500 for the duration of the master's degree.
You'll automatically be considered for CIA's scholarships as part of the application process. The best way to find out what you qualify for is to complete your application for admission.
Residencies: You'll Love Learning in New York and California
The convenient and asynchronous online learning format is supported by low-frequency in-person residencies. This unique combination allows for hands-on learning, networking opportunities, and invaluable connections with your cohort. Held at our New York and California campuses, you'll be immersed in the major food hubs of the Hudson Valley and Napa Valley. Depending on your program, you'll find yourself meeting and networking with leading food business entrepreneurs; participating in interactive tastings at world-renowned wineries; or getting hands-on field experience on local farms. Most importantly, you'll get the opportunity to grow your network and form relationships to take with you in the next stage of your career.
Hear from food business students as they explain why the residencies are essential to the master's degree program.
World Class Cross-Disciplinary Faculty
With CIA's long history and connection to the food industry, we bring practicing industry professionals together with faculty experts to create programs that meld practice and theory.
Our faculty are among the foremost doers, makers, entrepreneurs, and innovators from the worlds of education, business, design, and technology. They share a passion for craft and mastery, but also for surprise and experimentation.
Food Business Faculty
Legal Strategies and Challenges for the Restaurateur

Differentiation, Branding, and Packaging

Restaurant Operations and Management Strategies
Sustainable Food Systems Faculty
Race, Class, and Justice from the Field to the Table

Sustainable Agriculture

Sustainable Diets and Public Health
Wine and Beverage Management Faculty
Master Sommelier

Named "Great Wine Mentor" by Wine & Spirits magazine

Sommelier and Wine Business Owner
What They Are Saying
"I wish this program had been around when I was starting out. The concepts and innovations these graduates will be learning will help them to develop into the kind of talent we want to bring into our company to help us grow into the future."
—Charlie Palmer '79, owner, Charlie Palmer Group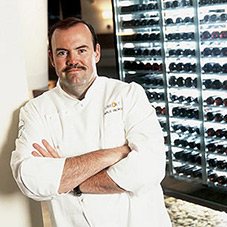 Contact Us